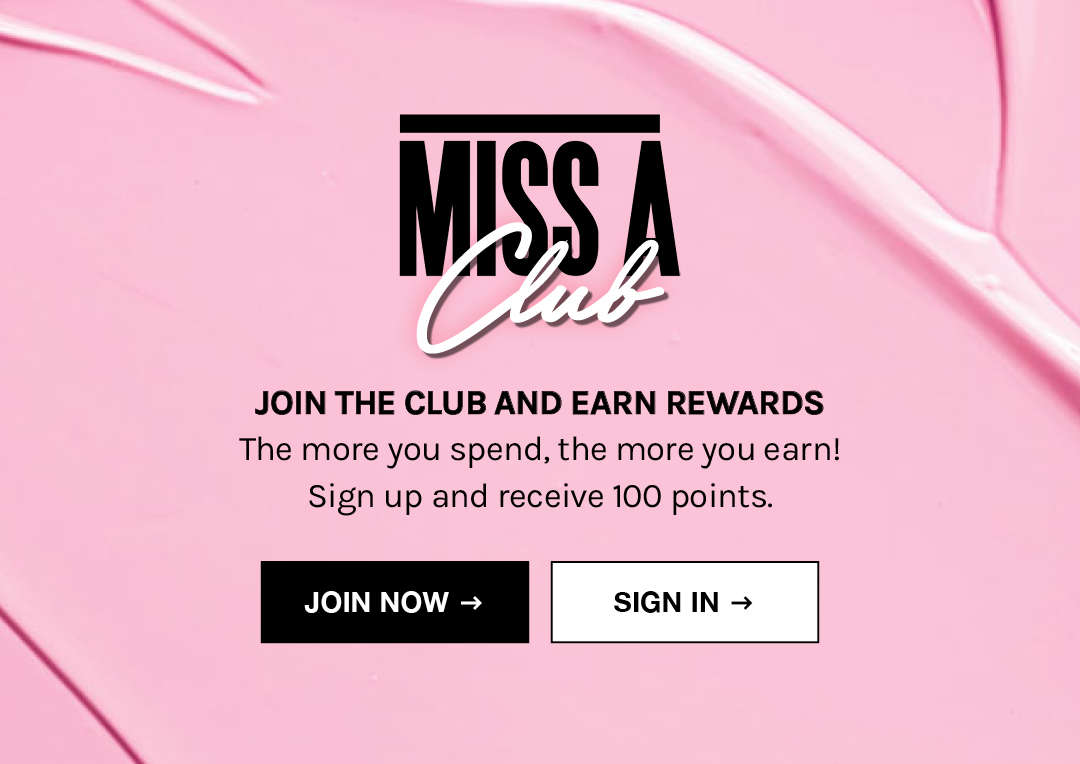 WAYS TO EARN
Every time you shop is a chance to earn
CREATE ACCOUNT
100 points
SHOP
1 point per $1
HAPPY BIRTHDAY
100 points
FOLLOW ON INSTA
30 points
SHARE ON FACEBOOK
10 points
LIKE ON FACEBOOK
30 points
FOLLOW ON TWITTER
30 points
SHARE ON TWITTER
10 points
REFER A FRIEND
$5 off coupon
REWARDS
Rewards are subject to change. Available while supplies last. Terms apply.*
FREE SHIPPING
80 points
AOA PRO LASHES
100 points
$5 OFF
100 points
BLENDER VAULT
130 points
ACNE PATCHES 6 PACK
180 points
MISS A TEE
200 points
SHEET MASK SET
200 points
$10 OFF
200 points
MISS A CANVAS TOTE
400 points
MISS A SWETSHIRT
500 points
UV BEAUTY STERILIZER
3000 points
$5 OFF
Refer a Friend
FAQS
Questions? Look here.
When did the Miss A Club officially launch?
On November 18th 2021, we launched our very first loyalty program – the Miss A Club!
I did not receive 100 points for joining the Miss A Club.
Accounts created prior to November 18th, 2021 do not qualify for the 100 points. Only new accounts created after November 18th, 2021 will receive the 100 points.
Do my past orders count towards my points?
Only orders placed after November 18th, 2021 will earn you points.
Can I redeem my reward without purchasing other products?
To redeem your rewards, your cart total most be at least $0.01 to proceed to checkout. Orders placed for rewards only or reflect a cart total of $0 will not be eligible for checkout.
How can I use my $ Off Reward?
Your cart total must be greater than the amount of your $ off reward to use it. 
(Ex. To use your $5 Off Reward, your cart total must be $5.01 or greater)
When do I get my $5 referral reward?
You will receive your $5 referral reward once your friend makes a purchase.
How do I receive my birthday reward?
Please click on the Rewards icon and click on Ways to Earn. After this, click Edit Date next to the Celebrate a Birthday reward. To receive your reward in the current year, you must enter you birth date at least 1 month in advance.